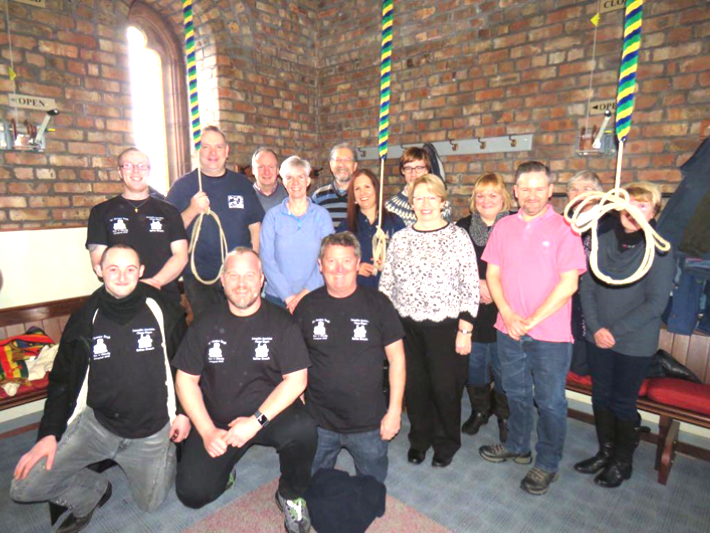 On Saturday 17th March, ringers from St Katharine's church joined other ringers from the Bolton branch of the Lancashire Association of Change Ringers on a ringing trip to Liverpool. Departing from the final pick-up point at Bolton Parish Church, the group headed off by minibus for the M62.
The first ring of the day was at St Barnabas' church which has a ring of 8 bells. The church is located on the corner of a very famous street – Penny Lane. Following a very enjoyable opening ring, the group then headed down to the Pier Head to catch the ferry across the River Mersey. Undeterred by the freezing cold weather and a bitter easterly wind, the ringers boarded the ferry and set off for the Woodside ferry terminal at Birkenhead. Despite the choppy waters, the group took the time to tuck into their pack lunches and drink hot coffee.
Leaving Woodside ferry terminal, the group reunited with the minibus for a short journey to St Saviour's church, Oxton. The tower's 10 bells proved to be a challenge for most of us, due to the fact we only ring on 6 or 8 bells most of the time. Nonetheless, everyone enjoyed the experience. The group then made the return journey across the Mersey and the excitement began to build for the final ring of the day at Liverpool Anglican Cathedral. This magnificent Cathedral is the largest in the UK and the Vestey Tower has a floor to top height of 101 metres and stands 154 metres above the River Mersey. The tower is home to the highest and heaviest ringing peal of church bells in the world! The huge array of 13 bells, weighing 17 tonnes, are hung on a radial concrete frame and surround the massive bourdon bell 'Great George' which weighs 15 tonnes. Great George cannot be swung but can be chimed. The heaviest of the 13 full-circle ringing bells, named Emmanuel, weighs 4.1 tonnes.
The Cathedral has 'open ringing' for many of its Saturday evening practices, allowing ringers from all areas and of all abilities to visit and have a go. Due to the bells' size and weight, many ringers can find these bells a little intimidating. However, it was great to see many of our group taking the opportunity to ring these bells, so they can at least say they have been and done it. Well done Bolton branch.
Mike Kay
And keep your ears "peeled" for these dates when you can hear our wonderful bells in Blackrod when we have visiting bellringers:
12th May – the ringers from Didsbury are coming (Plant Sale day) again lunchtime
28th May – Furness and South Lakeland ringers will be paying us a visit around 10am
2nd June – the East Branch of the Cheshire Guild are with us around lunchtime