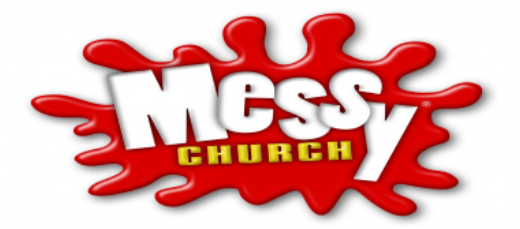 Next Messy Church is on Saturday 25th May at 4-6pm.
It's FREE!
Includes crafts, food and singing.
Families welcome. (under 16s must be accompanied by an adult)
Sunday School
The numbers attending Sunday school continue to fluctuate but it's lovely that they enjoy making a little craft and explaining what they have learnt at the end of the service. It's wonderful to see Robert, Natasha and Hannah's artwork in front of the altar, it shows how they contribute to life at St. Katharine's. So many people have commented on how striking it is. Special thanks to Revd Angela for allowing it to be in such a prominent position.
The Mothering Sunday service went well with the older children doing the reading or reading out prayers special to Mothering Sunday. The younger ones enacted Moses in the Rushes and had fun dressing up. Everyone appreciated the little bunches of flowers the children gave out and the children really enjoyed distributing them. To have 'important' tasks to undertake makes them feel a real part of the church family.
Messy church
Another interesting afternoon of Holy Week based crafts and praise followed by food was had by all on Saturday 13th April.
It was lovely to see so many children with their families in church all enjoying making a variety of things from palm wavers, felt donkeys, icing biscuits, sun catcher crosses to "He is Risen" pictures.
Revd Angela led the praise and talked about Palm Sunday. Peter Wynne played the piano during the hymns while the children waved their Palm wavers or they played musical instruments.
Hot food of pizzas and hot dogs was served upstairs afterwards, with all our magnificent helpers ferrying what seemed like a never-ending conveyor belt of food!
Thank you to everyone who came to our 2nd Messy church and particular thanks to all the volunteers for the smooth running of the afternoon.
Sylvia Gregory, Margaret Sumner and Ruth Sharrock