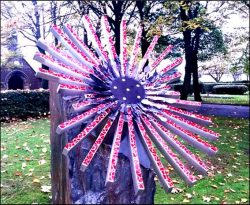 I hope many of you have noticed the piece of commemorative art work that has appeared in the front of the cemetery gardens. This has been produced by the children in Year 6 at both of our primary schools who had the privilege to work with the artist Salina Somalya. Their project was part of a year-long piece of work which was made possible by Heritage Lottery funding. The children's learning journey started in November 2014 when, at the Remembrance Day Service, both schools were presented with the names of those soldiers from Blackrod who lost their lives in World War 1. This was the catalyst for their learning and throughout the year they researched the impact the Great War had on the people of Blackrod.
They were supported in their learning by many groups in Blackrod. The Blackrod Community group gave them information about the soldiers who had died. From these, three soldiers were chosen;  William Bailey, Robert Speak  and Thomas Dowling. Working with Jane Smith from History Alive, they wrote and performed an amazing play about the three men. They also wrote a very moving song which has since been played several times on Radio Manchester. The children took advantage of the wealth of information available locally and increased their knowledge of life in 1915 by visiting the Imperial War Museum, Bury Fusiliers and Horwich Heritage Centre. They had visits from the School Library Service and were supported in rag-rug making by the ladies of the Knit and Stitch Group. They produced a heritage walk for Blackrod with the help of members of the Community Group.
To collate all these experiences, the children at both schools then had a whole week in school attempting to recreate aspects of life in  1915. The experiences in school were as they would have been back then; it was a truly remarkable learning experience and one I think they will always remember. Their year came full circle when at this year's Armistice Day ceremony on November 11th, the children were able to present their art work to the Mayor.
Making the sculpture
The art work represents a poppy, the outside petals being made in mosaic. The inner sepals are all taken from the children's drawings and represent life in Blackrod in 1915. These drawings have been carefully crafted into hammered metal. The whole piece has been mounted onto stone and on the back is a commemorative plaque.
The children are very proud of their work and also very proud of their local heroes who gave their lives in World War 1. Through their experiences this year they have grown in understanding of the history of their town and their understanding of Armistice Day and are pleased to be able to give their memorial to their  town.
Claire Massingham