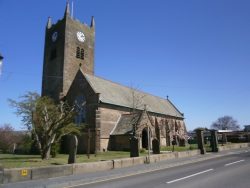 The 2017 annual meeting will take place on Sunday 30th April at 11.00 am during the Parish Eucharist in St Katharine's Church.
Elections will take place during the A.P.C.M. for the following:
Churchwardens
15 Parochial Church Council  (PCC) members;
5 Deanery Synod members (including a member of the clergy) to also serve as ex-officio members on the Parochial Church Council (PCC);
Sidesmen and Sideswomen.
Please note that only those whose names are entered on the current St Katharine's Church Electoral Roll are eligible to vote and to nominate candidates, as well as to stand for election themselves.
The A.P.C.M. also provides opportunity for concerned parishioners to raise any matter, provided that their names are entered on the current Church Electoral Roll.
Lists for the nomination of those willing to serve as Churchwardens, Deanery Synod members, PCC members, and Sidesmen/Sideswomen are on display in the Lower Room of St Katharine's Church.
The Reports to be presented to the APCM will be available to parishioners from Sunday 16th April – please pick up a copy from church.
Janet Milward, PCC Secretary
Are you on the Electoral Roll?
Our Annual Parochial Church Meeting (APCM) is due at the end of April.  In order for you to be able to vote on any items at that meeting you need to be on the Electoral Roll of St Katharine's.  Forms are available from the office, just ask one of the church wardens or Sheila Kinrade, who is our electoral Roll Officer, and they will gladly help you.
If you are not sure what being on the Roll is all about, then again please have a word.
Sheila Kinrade