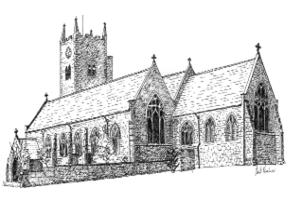 As we pass the middle of the year, it seems like a good time to look again at our stewardship. Firstly can I thank all who give so generously of their time, talents and cash to help St Katharine's maintain its worship pattern. We are very grateful for all your support.
It is several years now since we ran a stewardship campaign and in that time we have lost many faithful and much loved contributors to our parish finances.  In addition with an aging congregation and government tax changes we have lost considerable Gift Aid income.
We rely so much on our parishioner volunteers to provide their time and energy for a whole range of events and activities and we cannot thank them enough for their efforts.  If you can help out in any capacity, this is a form of stewardship and will be much appreciated.
This year our parish share is £46,000 (the amount we pay to the Manchester Diocese) which, believe it or not, has been reduced from previous years.
As well as the parish share we have to pay for our heating, lighting, insurance, bills, and bear the additional cost of repairing our beautiful building.
To do this we need regular planned giving from individuals and families to keep the buildings open for worship as a symbol of life, light and love of Jesus in our parish.
You can help our finances in several ways:
Putting cash on the plate during the collections at our services.
Becoming part of our planned giving scheme – ask for a pack of weekly envelopes and decide on a regular commitment.
Setting up a standing order to pay your donations each week or month directly into our bank account.
Planned giving is best for us as it allows us to budget throughout the year and demonstrates a commitment
to good financial stewardship.
If you are a taxpayer, then you are eligible to Gift Aid your giving.  By signing a simple form, we can reclaim from HMRC 25p for each £1 that you give.  One off donations can be Gift Aided by using the pink envelopes available in church.  Can I ask all existing Gift Aiders to let me know if they are no longer taxpayers in order to ensure we are keeping things legal.
For further information please speak to Jean Hibbert or Chris Skinner.
For St Katharine's to remain at the heart of our community we need everyone to contribute to its upkeep.  It would be a tragedy if our church on the hill was not available for prayer, weddings, christenings and funerals.
We ask you to review your financial giving and help us secure our church, not just for today, but for future generations.
Chris Skinner, Stewardship Co-ordinator