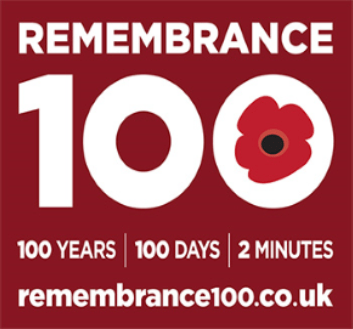 Hopefully you managed to attend some of the events organized in Blackrod for the week leading up to 11th November.  The Field Hospital set up at BSACC was fascinating, the play Flanders to Fish was very moving and the music by Wingates Band and singing by St Katharine's very own "Sweet Girls Choir" was a great night.  The Act of Remembrance at the Cenotaph focused us all on the sacrifices made by Blackrod men and so many people joined in the march up to St Katharine's for the united church service.
So many memories for all who managed to take part in any of the events – the wonderful singing of the school children at the cenotaph – the Luncheon Club meal at the Methodist – two showings of "Testament of Youth" and afternoon tea at St Katharine's – campfire singing by the guides, brownies and rainbows and the Afternoon Tea Dance.
Thank you to Rob Wallwork and his team who erected 100 poppies on the lamp posts; the gardening group and others who have spent so much time planting during the year so that the gardens and tubs looked spectacular and to Sharon for re-erecting her soldier and poppies at the top of Ridgway. Sincere thanks to all who organized these events and all who supported them.
A Message from Blackrod Town Council
The Mayor, Town Clerk and Council Members would like to give an enormous thank you to all the members of Blackrod Community and others, who turned out to support the recent 2018 Remembrance Day Service.
The hundreds of people who turned up at the Cenotaph on a drizzly grey morning exceeded all expectations and showed the true grit of Blackrod folks who were determined that this year's Service of Remembrance, including the commemoration of the end of World War One, would be a fitting tribute – even if a band hadn't been made available!
Volunteer Pipers, Drum and Trumpet Players, collective Blackrod School Choirs, Clergy and music played through a tannoy system to the marching crowds, all played their part in making the Remembrance Service a success as well as those who assisted in the background.
Well Done everyone, you made the Village of Blackrod extremely proud.
Town Clerk, Blackrod Town Council.
CORRECTION to last month's magazine: "There but not There" the Perspex figures – were bought by Blackrod Sports and Community Centre for the community.