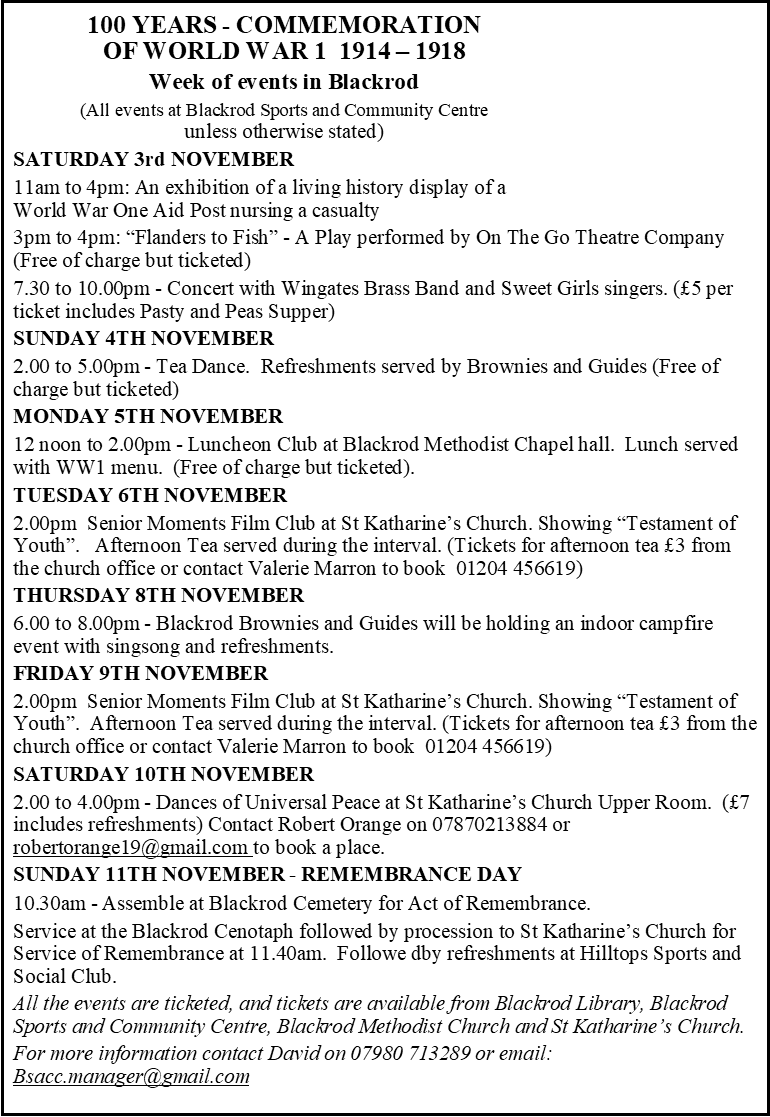 Commemoration of WW1
Hopefully you have been able to pick up a programme showing all the events which are happening in Blackrod between 3rd and 11th November to commemorate peace at the end of WW1.  A lot of the events are ticketed to help with catering and space, and some of them are free. If you would like to support Blackrod Community Group who have organized the programme, please contact Jean Hibbert 691575 and I will see if there are any tickets left for any of the events.  The Act of Remembrance takes place at  the Cenotaph on 11th November – assembling at Blackrod Cemetery at 10.30 for the service at 11am, followed by the march up to St Katharine's for the church service.
SUNDAY 11TH NOVEMBER – REMEMBRANCE DAY
10.30am – Assemble at Blackrod Cemetery for Act of Remembrance.
Service at the Blackrod Cenotaph including presentatins by local school children.
11.00am  Firing of Maroons and two-minute silence,
followed by procession to St Katharine's Church
11.40am Service of Remembrance at St Katharine's.
Followed by refreshments at Hilltops Sports and Social Club.
Bells on Remembrance Day
The Government is supporting the Central Council of Church Bell Ringers to recruit 1,400 bell ringers – the number that were lost during the war – to create a national peal that will echo the impromptu outpouring of relief and joy that took place 100 years ago. During the day, church and other bells will ring out as they did in 1918 to mark the end of the war.
There but not there
The perspex figures in St Katharine's represent the men from this parish who lost their lives in World War 1.  We are taking part in the 2018 Armistice project for the charity "Remembered".
The charity has three aims:
To Commemorate the Fallen.
To Educate all generations.
To help Heal those suffering from the hidden wounds of post-traumatic stress disorder and other lasting legacies of combat, by raising funds for our beneficiary charities.
Remembered is a Registered Charity and a Charitable Incorporated Organisation.  For more information see the website at:
https://www.therebutnotthere.org.uk/
Thank you to Blackrod Community Group for providing these memorials for the village.
Every One Remembered
The Royal British Legion, in partnership with the Commonwealth War Graves Commission, is encouraging people to individually commemorate over one million Commonwealth Service men and women who were killed during the First World War.  The losses were felt in almost every town and village in the UK and throughout, what was then, the British Empire. You can make your commemoration at www.everyoneremembered.org Choose to commemorate someone you know – a relative or person on your local war memorial – or commemorate someone randomly selected for you.
Rivington Pike Illumination of Remembrance
Friday 9th to Thursday 15th November
Chorley's most visible landmark, Rivington Pike, will be lit with a poppy symbol for the Remembrance Week tribute marking 100 years since the end of the First World War.  Chorley Council has joined up with Horwich Town Council to light the pike.  You can view the tribute every evening during that week.