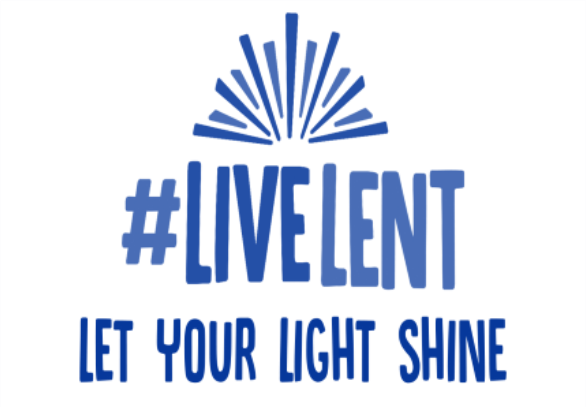 Church of England News….
#LiveLent – Let your light shine is a Lent journey through the Gospel of John, offering a short daily reading, a pause for reflection and prayer and a challenge to act. We're working closely with the Thy Kingdom Come team as part of this key moment in the Christian year.
It is written in simple and accessible language by John Kiddle, Archdeacon of Wandsworth, and includes an introduction from the Archbishops of Canterbury and York, who say:
"These Lent reflections take you on a journey through the Gospel of John and give you an opportunity to explore what the gift of Jesus and the challenge of Jesus mean for you, in the context of your daily life.
"God offers us life for the sake of others. The light he gives us in Jesus Christ is not to be hidden but to shine – it's a gift to be lived and shared. Indeed, the more we share it and let it shine, the brighter it burns."
Find out more on the website at:  www.churchofengland.org/lent
The aim in 2018 is to be as joined up as possible and encourage people to journey from Lent and Easter into Pentecost and Thy Kingdom Come.
LENT MEDITATIONS
Journey with Jesus through the desert.
Starting from Wednesday 21st February, at 10.30am, the Lent meditations will be held each week at St Katharine's church.
Led by the local clergy – Revd Angela, Father Kevin, and Revd Gill, the theme this year will be "Journey with Jesus through the desert for Lent.
Each week we will be looking at the different ways we walk with God – spiritually, simply, sacrificially, secretly but always seeking the truth.
Everyone is welcome, and each session will be followed by light refreshments and a chance to meet, have a chat, and discuss the day's theme.
STATIONS OF THE CROSS
Led by clergy this is a chance to share Jesus' journey to the cross each week on Wednesdays at 7.00pm in St Katharine's Church.  The sessions will be followed by Holy Communion.  All welcome.
A leaflet showing the different Stations on display in church is available from the magazine rack in the entrance hall.  It is now 10 years since these embroidered panels were completed by members of the Stitch & Knit Group in February 2008.
"From Jerusalem to Calvary" – Lent Course at Westhoughton
 During Lent, there is a course at St. Bartholomew's church on Tuesday evenings from 7:30pm, based on the Stations of the Cross produced by the Benedictine sisters of Turvey.
Though this is a course, each session is complete in itself so please feel free to come to whichever sessions you can manage.
6th March:  Authority. The Last Supper
13th March:   Degradation. Arrest and Torture
18th March:   Completion. The Crucifixion