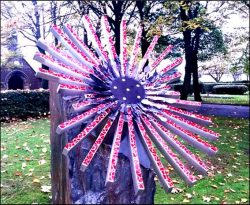 All Souls – Service of Thanksgiving for the Departed
 Sunday 5th November  at 3.00pm
All Soul's Day is set aside by the church each year as a day of prayer for the souls of the faithful departed. There is a list in church for you to add names of departed loved ones to be remembered at the Eucharist. And on Sunday 5th November at 3.00pm there will be an ecumenical service in St Katharine's with opportunity to remember the departed by name. All are welcome to this service to join your prayers with those of the church on earth and in heaven.
Remembrance in Blackrod 2017
 Saturday 11th November
11.00am  Firing of Maroons at Blackrod Cenotaph
 Sunday 12th November
2.15pm  Laying of Wreaths at Blackrod Cenotaph followed by  Procession to St Katharine's Church
3.00pm  Remembrance Service at St Katharine's Church
Patronal Festival and Stir-up Sunday 
26th November
We celebrate two special events on Sunday 26th November – our Patronal Festival to honour St Katharine of Alexandria.
But also, Stir-up Sunday, the last Sunday before Advent and the traditional day that Christmas puddings are made!  Don't forget to support Fair Trade and you can order many of the ingredients from Traidcraft – Fair Trade Raisins, Sultanas, dried Apricots, Light brown soft sugar and Dark Muscovado Sugar.  Have a look in the catalogue in our magazine rack in the entrance hall to church for Christmas presents.
St Katharine's is a Fair Trade Church.
TOY SERVICE
Advent Sunday – 3rd December
at 11.00am
Our gifts for children at Christmas will again be donated to the NSPCC, and to the FortAlice home for families at risk.  Toys should be new and unwrapped (so the organisers at NSPCC and Fortalice know what it is).  Wrapping paper is also appreciated.  Please remember to think of the older children as well as the little ones.  Please bring your gifts to the service or leave them in the church office.    THANK YOU