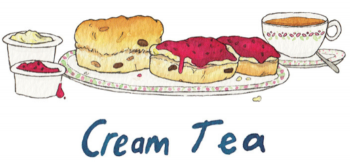 Well who'd have believed we would have such a lovely afternoon? Saturday morning was a washout, lunchtime it was still pouring!  At about 1.30 the rain stopped, the tables and chairs were dried off even though we didn't think for one minute that it had finished raining, 1.45 – a little ray of sun and then by 2 pm we had our lovely day!!
Everyone tucked into the scones, jam, strawberries and clotted cream plus three beautiful cakes made and kindly donated by Elaine. Many thanks Elaine.  The Prosecco, tea and coffee flowed with thanks to the hard work of my granddaughter Jenny.  Judging from the chatter and laughter the event seemed to be a success and raised £172.
Thank you to everyone who supported our Friends of St. Katharine's afternoon
and to Sylvia and Graham for opening their house and garden to us all.
Sylvia Gregory