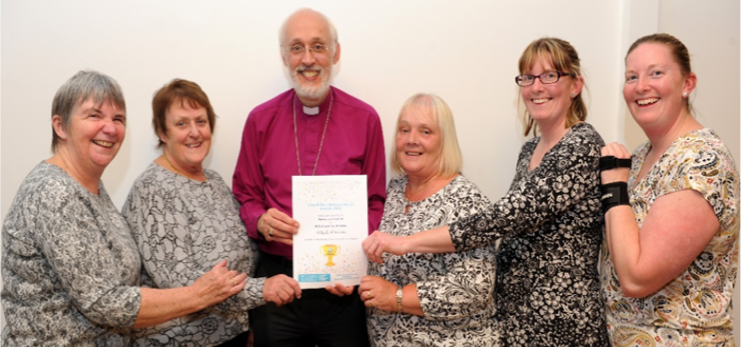 Jean Hibbert, Sylvia Gregory, Margaret Sumner, Joanna and Natalie Sweet were invited to an evening get-together at Bishopscourt to meet with the Bishop and other award winners.
Jean says:  "Some 13 years ago the Events Group at St Katharine's asked the good people of Blackrod if they wanted to stage a Scarecrow Festival and we all know where we are with that one!!!
The Diocese of Manchester, for the second year running, have awarded certificates to parishes in the Diocese who they feel have reached out into their communities to draw people together in a common cause.  This year Blackrod Scarecrow Festival was one of the nine recipients of the award so if you were involved in any way at all in helping to make the festival a success, a huge thank you and a round of applause are coming your way!!
There were some inspirational people at the Award Ceremony and you can read what they have been doing by logging on to the Manchester Diocese website and look for "Church for a Different World" Awards 2018."