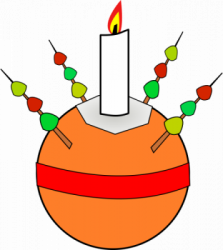 There will be plenty of opportunity for everyone to "Follow the Star" at St Katharine's this year.  All are welcome to any or all of the services including:
Christingle on Sunday 9th December at 4.00pm. During the service we will light a Christingle candle and explore the symbolism of each element.
* The orange represents the world
* The red ribbon (or tape) symbolises the love and blood of Christ
* The sweets and dried fruit represent all of God's creations
* The lit candle represents Jesus's light in the world, bringing hope to          people living in darkness.
There will be a collection during the Christingle service for The Children's Society.
Carol Service on Sunday 16th December at 3.00pm. Come and follow the Christmas story in music and readings. Followed by festive mulled wine and mince pies!
Crib Service on Christmas Eve (Monday 24th December) at 6.00pm. A family friendly service of candlelight and song, telling the story of the Nativity.  Children are invited to come dressed as angels, shepherds or kings to make this an experience to remember!
Midnight Eucharist on Christmas Eve at 11.00pm. A service of holy communion by candlelight to celebrate the birth of Jesus.
Festival Eucharist on Christmas Day (Tuesday 25th December) at 10.00am. Celebrate with us the birth of Our Lord, Jesus Christ.