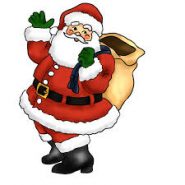 Christmas Fair at St Katharine's
Saturday 23rd November 2019 10am to 1pm
Lots of Stalls – Gifts – Cards
Jewellery – Crafts – Cakes – Jarbola
Bulbs & Grave Pots – Tombola
Toys – Mulled Wine & Gaelic Coffee
Something for Everyone!
REFRESHMENTS
                    Father Christmas will be arriving about 10.30am. Tickets available now!
Free admission
CHRISTMAS FAIR WANTED
Please can you help by donating any of the following:
* Items for a bathroom stall.
* Bottles, chocolate for the tombola stalls
* Cakes, cakes and more cakes!
* Gifts unwanted and unused
* Variety of bits and pieces to fill jam-jars, and empty jars
* Unwanted toys—in new or good condition
* Books
If you would like to help for a couple of hours on a stall, or help to set up on Friday 22nd or clear away on Saturday 23rd November, provide able legs to bring crockery downstairs to the kitchen – please have a word with Jean Hibbert – 691575.
Thank you so much.