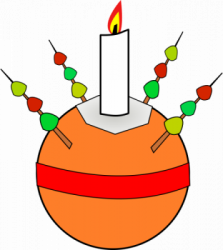 TOY SERVICE – Advent Sunday 1st December
Our gifts for children at Christmas will again be donated to the NSPCC, and to the FortAlice home for families at risk.  Toys should be new and unwrapped (so the organisers at NSPCC and Fortalice know what it is).
Wrapping paper is also appreciated.  Please remember to think of the older children as well as the little ones.  Please bring your gifts to the service or leave them in the church office.Thank You
And don't miss Blackrod's Lights switch on – come along and join in the Carol Singing on Tuesday 3rd December at 6.30pm on the tree on the green opposite Blackrod Library. Refreshments afterwards in St Katharine's Church.
CHRISTINGLE Sunday 8th December at 4pm
All welcome to this service during which we will light a Christingle candle and explore the symbolism of each element.
* The orange represents the world
* The red ribbon (or tape) symbolises the love and blood of Christ
* The sweets and dried fruit represent all of God's creations
* The lit candle represents Jesus's light in the world, bringing hope to people living in darkness.
The Christingles will be provided. There will be a collection for the Children's Society.
WATCH OUT  for Father Christmas!
This year the Rotary Club of Horwich will be visiting Blackrod with Father Christmas on his sleigh on these dates: Wednesday11th December – Scot Lane End & Friday 13th December – Church End. Ho ho ho!
MESSY CHURCH- NEXT SESSION Saturday 14th December from 4-6pm at St Katharine's.
ALL WELCOME It's FREE! Includes crafts, food and fun.
Families welcome (under 16s must be accompanied by an adult).
Blackrod Church School News
Year 5 made paper lanterns with Minty.  The children thoroughly enjoyed it and they looked beautiful when lit up during the Christmas light switch on in Bolton town centre.  Bolton Winter Festival 2019 continues until after Christmas.