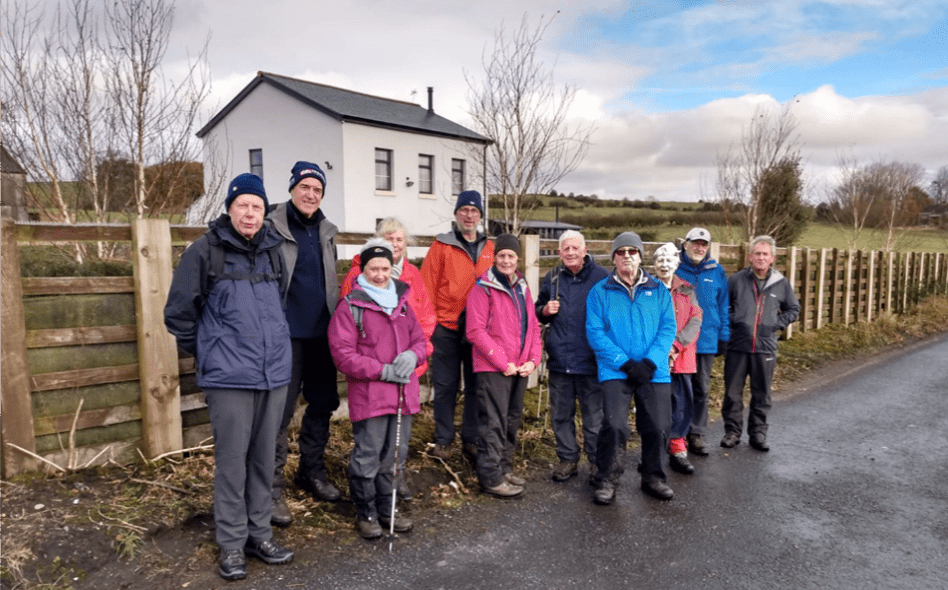 As our walks now always seem to start from our lunch destination we thought we should keep up the tradition. Our meeting point this month was the car park of The Balcarres Arms at Haigh. Everyone arrived wearing full waterproofs due to the weather earlier in the morning being dreadful. But the 'walking gods' looked down favourably on us as it was dry when we started and remained so throughout the day.
Leaving the car park we went down Copperas Lane towards Haigh Hall with St. David's Church on our left. At the entrance to the car park we kept left passing the Stables cafe heading for the Hall itself. Walking along the main drive with the Hall behind us we followed the path through the trees to the canal. Crossing the lovely canal bridge we turned right onto the towpath heading towards Red Rock. From here, on a sunny day, you get some good views across to Wigan on your left and the Hall and golf course on the right. At the next bridge (no.61) we crossed back over the canal and, turning left, followed the signed route to bridge no.62 and Pendlebury Lane.
Turning left at the side of the first house we followed the path to Winstanleys. Walking through their yard we headed up the road to the junction at the top. Following the signs we climbed the stile into the fields and crossed to Red Rock Lane. A right turn here along main road as far as Pennington Lane where we turned left following the lane to its end passing Pennington Farm. Entering the fields we followed the footpath signs, crossed over a number of stiles and emerged onto Little Scotland road.
Crossing over the road to the opposite lane we stopped for a short coffee break. Refreshed we headed off across the fields to Freezeland Farm. Passing through the gate we walked up along Toddington Lane to Haigh Road and back to the Balcarres Arms. Due to the very boggy conditions we had encountered along our walk we decided to have an earlier than planned finish.
David and Dilys
The next community walk is:  Tuesday 10th December. We are starting from the Crown at Horwich for a walk around Rivington. We are having our Christmas lunch at the Crown. A pre-order is required. Vic is organising this. Ring Vic to book lunch – 07775922433