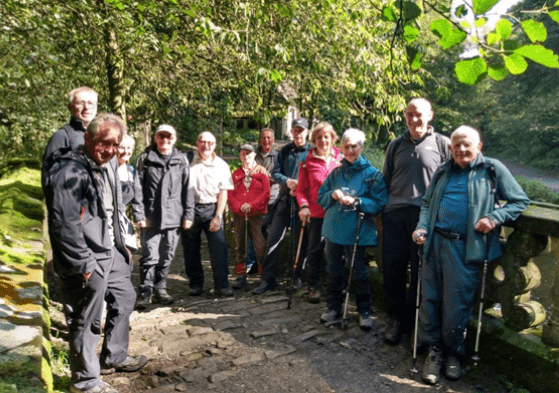 Thirteen of us gathered for this walk in bright and dry conditions. Starting at the Roddlesworth Information centre car park at Tockholes, we walked up the track at the back of Hollinshead Terrace towards Stepback. Through Stepback woods and up the track by the side of Stepback Brook. Some stone work over the brook prompted speculation if there had ever been a water wheel here. Legend has it that Cromwell told his troops to 'Step Back!' here in readiness for a skirmish in Tockholes village in the valley below!
Over Darwen Moor we could see our first target; Darwen Tower (also known as Jubilee Tower). Looking for all the world like a 1950's Dan Dare style rocket, the tower was built from locally quarried stone in 1897. Some ascended the tower up the internal spiral stairway. It gives extensive views in all directions, including Holcombe Moor, Winter Hill, Bowland, Blackpool Tower and the Ribble Estuary.
Walking down the track towards Sunnyhurst we were sheltered from the wind which enabled us to feel the warmth of the sun. We stopped at the Sunnyhurst Hotel pub and used their outdoor seating for our coffee break. Onward into Sunnyhurst Wood we descended to Sunnyhurst Brook. Sunnyhurst Wood was designated a Biological Heritage Site in 1993 by Lancashire Wildlife Trust. There is a wealth of wildlife, both woodland birds and plant life to be found in the wood. Some 702 species of plant, bird, invertebrate and mammal have been recorded or observed in the wood. I'm sure we saw some of them. We stopped at the bridge over Sunnyhurst Brook for our group photo.
Climbing out of the woods we took the top track out. This affords great views across the wooded valley towards Darwen Tower. After some tricky stone steps we arrived at Dean Lane and Donkey Brow. There were some complaints about this short, steep, cobbled climb but we all made it. I'm sure the Witton Weavers whose Way this is, complained every day they had to climb it to go to work at Hollinshead Mill in Tockholes. We arrived at Fine Peter's Farm and took Pleasant View lane to the footpath that lead us back to the Roddlesworth Information centre car park. After changing our footwear we all retired to the Royal Arms pub for an excellent lunch. Vic
Next walk: Tuesday 8th October – Yarrow Valley Country Park walk. Start at the car park, off Birkacre Road, Chorley PR7 3QL at 10. Lunch at Birkacre Garden Centre cafe afterwards. Leader: Dave W 07711812536