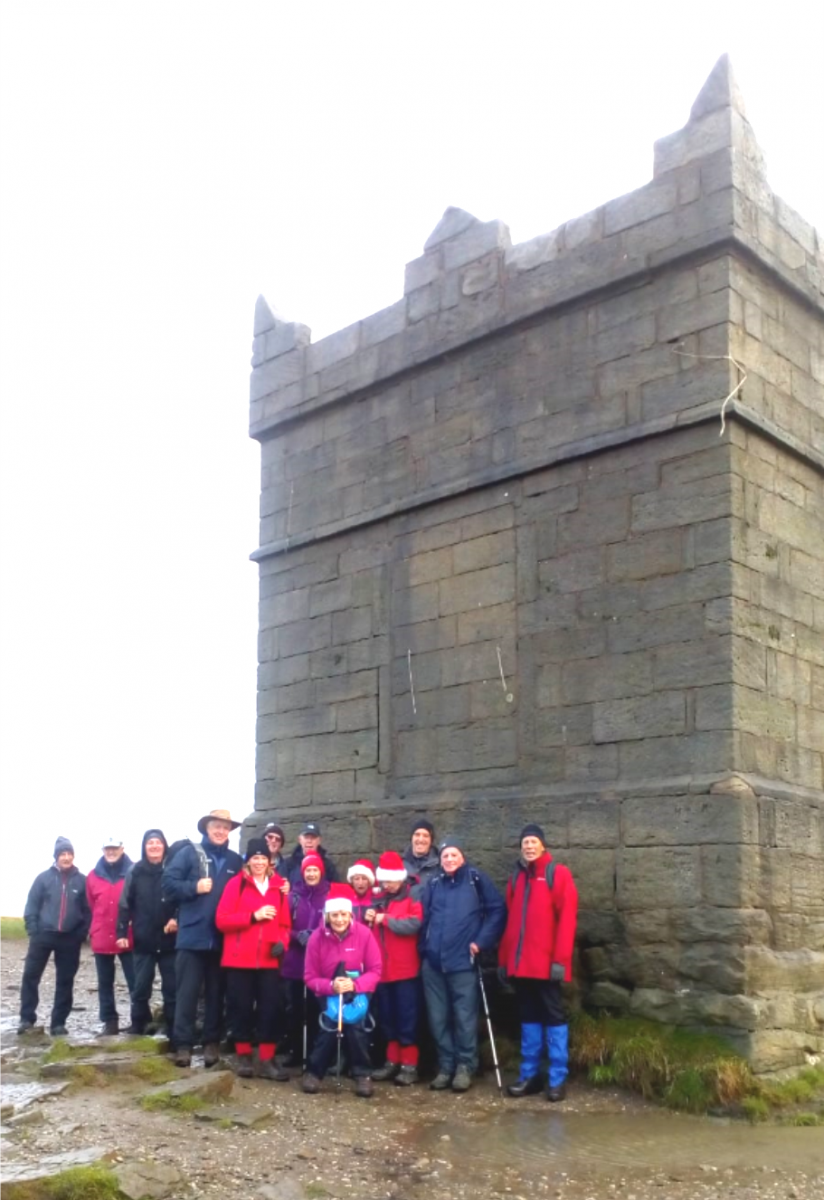 Christmas hats, sparkly earrings and good cheer set the tone for today's Christmas season walk. Sixteen of us and a dog set off from the Crown pub at Horwich. Up Lord Street and Green Lane before crossing the river Douglas to Roynton Road, we were on our way up to Rivington Pike. Taking a turn right we started the assent in earnest up the footpath passing Higher Knoll farm towards Belmont Road (often incorrectly referred to as Georges Lane).
Pausing for everyone to get their breath back after this first exertion we set off passed Brown Hill up to the Pike. At the top we had a coffee break and took in the view. Margaret provided the brandy as is tradition now. Though the day had started misty and damp, it was now clearing to reveal the Lancashire plain and Preston in the distance.
The name Pike comes from the Old English word pic for a pointed eminence. The oldest recorded name is Winterhold Pike in 1250 that changed to Roundpic by 1280. It was only after the area became popular with tourists that the name changed to Rivington Pike. It was a beacon and the tower was built as a hunting lodge. More background can be found here http://www.angelfire.com/in/rivington/rivington_pike.html
Descending to the Pigeon Tower we witnessed the extensive work now being carried out by Groundworks on the old bungalow site and surrounding gardens and summer house. Walking down the steps to the lawns we could see lots more paths have been cleared with the intention of making this accessible next spring. There is an open day planned for 23 March 2019 to formally open the Pigeon Tower and Italian Lake. See Rivington Terraced Gardens on Facebook for more info.
Making our way down to the Rivington Hall Barn we walked across the fields to Rivington Village, passing through Rivington Chapel yard. We then made our way to the side of the lower reservoir and back along the tracks, past Go Ape to Dryfield Lane. Turning right we joined Bolton Road at Scholes Bank and made our way back to the Crown.
Christmas lunch had been pre-ordered so we all enjoyed a festive meal before returning home for a well earned rest.   Vic
Next walk: Tuesday 8th January – A walk around Anglezarke. Meet at the Bowling Green Horrobin Ln, Rivington, Bolton BL6 7SE at 9:45 to start at 10 (parking on the road across the reservoir). Lunch at the Rivington Tea Rooms afterwards. Leaders: David and Dilys 07535571750.