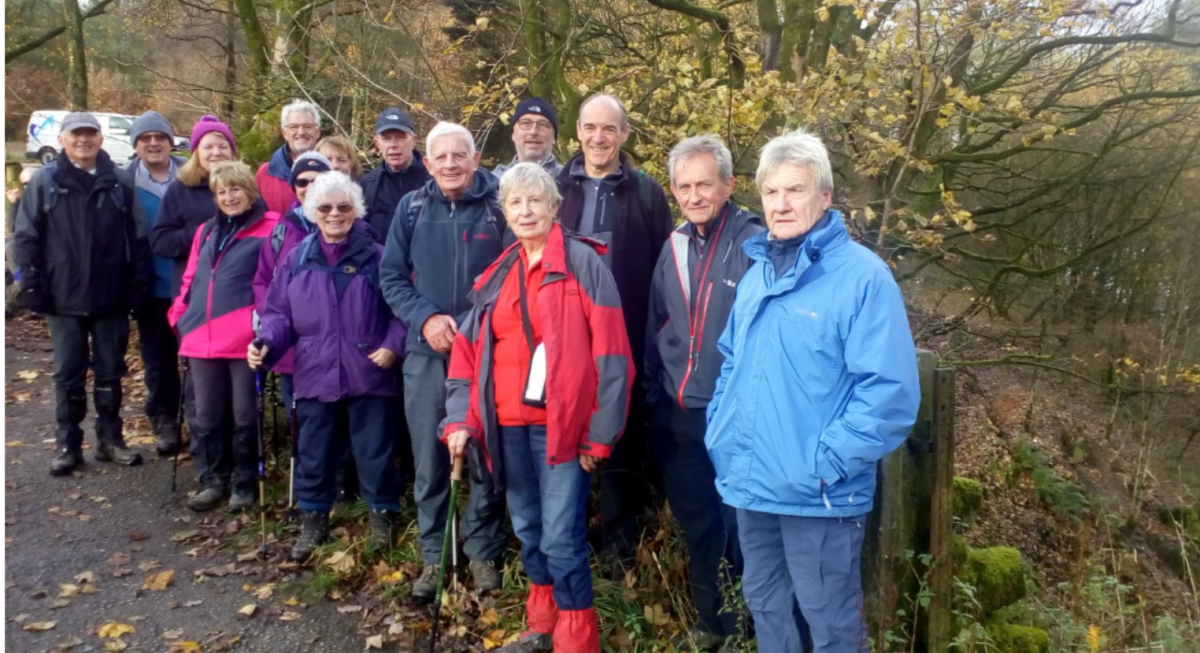 We were 16 and no dog this month. We all gathered at the Jumbles Reservoir car park on a bright and sunny morning.
A few minutes were taken to remember Anne McMillan who sadly died in October. Anne had been the founder of our walking group back in 2013 when she lead a series of history walks from Blackrod Church. There was a collection for Anne's chosen charity, the Eden Animal Rescue and £55 was raised in her memory.
Setting off away from the reservoir we went up a secret garden style path to emerge on Grange Road in Bradshaw by the side of Moorhouse Cottage. Rather grand for a cottage and more like a mansion. Very impressive.
Turning up another track and passing under a railway we eventually crossed Chapeltown Road before heading up Haydock Lane towards The Last Drop Village. Turning just before the village we walked alongside Turton golf course and arrived the Warpers Trail on the Witton Weavers Way. This is one of 4 circular walks that are part of the Witton Weavers Way. Lancashire was the centre of the cotton industry in Victorian times and the mill towns of Blackburn and Darwen were known throughout the world. However, a hundred years before this period, handloom weavers had worked from home. Their stone built cottages are now the nucleus of the hamlets and villages we find today, throughout the West Pennine Moors.
The individual circular walks of the Witton Weavers Way are named after jobs within the cotton industry; which turned raw cotton into fine cloths.
We turned off the trail and down to Turton and Entwistle reservoir where we stopped for a coffee break at a picnic table. We were just in time as another walking group turned up 5 minutes later and seemed miffed that we had taken the picnic table first. The early bird and all that.
Turning back towards Wayoh Reservoir we passed under the Ribble Valley railway line viaduct. Very impressive, especially as a train went over as we passed under.  Around Chapeltown and along more of the Warpers Trail alongside Bradshaw Brook and then by the side of Jumbles Reservoir we arrived back at the car park. A short drive brought us to the Pack Horse on Watling Street at Affetside where we had a great lunch and some liquid refreshment.   Vic
Next walk will be Tuesday 11th December. Starting at the Crown pub, Chorley New Rd, Horwich, BL6 7QJ. Gather at 9:45 for a 10 o'clock start. Walking up to Rivington Pike and back via the Oriental gardens. Lunch at the pub afterwards. Pre-order for food is necessary. Christmas hats required. Leader: Vic 07775922433