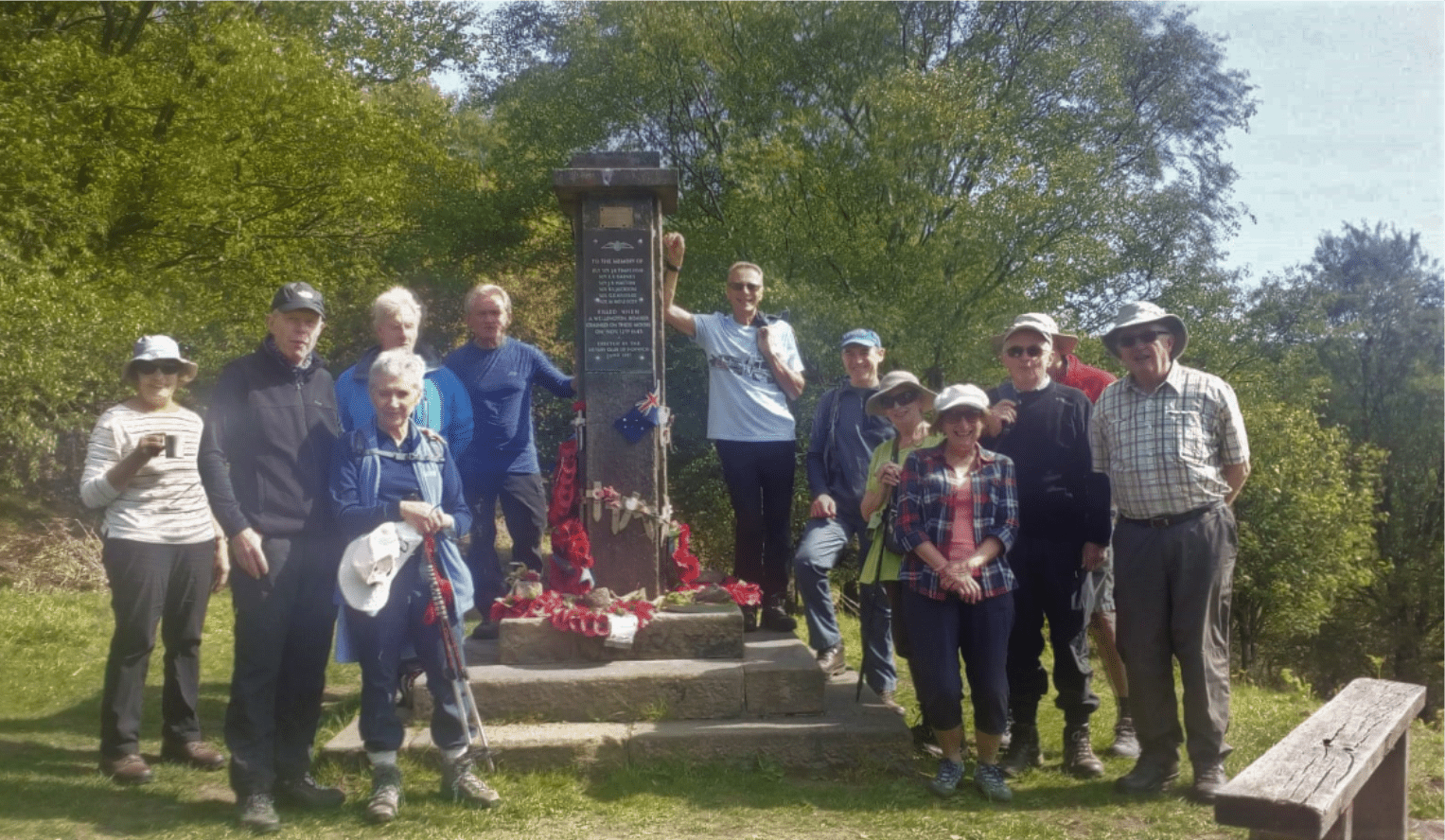 A Walk to Round Loaf Burial Mound
For this month's walk we met on Horrobin Lane, Rivington, on a gloriously sunny morning. Apparently May is 'National Walking Month'. Our destination being the Bronze Age burial site on Anglezarke Moor. 13 of us started from outside the Bowling Green and headed off along the road to Sheep House Lane. Passing through the gate opposite the Unitarian Chapel we went down the '39 Steps' and where the path divides we turned right, eventually passing Dean Wood House before entering the field via the stile.
Bearing left we followed the trail across the fields with the Reservoir on our left. At Hodge Brow we went down the road to Alance Bridge. Following the sign for Lead Mines Clough we continued until we arrived at the old workings. Our uphill climb from here brought us to the War Memorial. This commemorates Wellington Bomber Zulu 8799 which crashed on the Moor on the 16th November 1943 killing all the crew.
After a short break we followed the track through the trees and then, turning right, continued onto the moors.  The path is good to start with but soon becomes a rough track. As we approached Devils Ditch our destination came into view. Crossing the Ditch we soon arrived at our destination. Round Loaf is a scheduled funerary monument, it's an oval earth mound about 73 metres long, 66 metres wide 5.5 metres high. It has never been excavated.
Retracing our steps across Devils Ditch we by-passed the War Memorial by crossing the fields leading back to Lead Mines valley. Leaving the valley via Alance Bridge and heading along Parson's Bullough Road we took the path by the side of Yarrow Reservoir back to Horrobin Lane. After a quick change of footwear we went to the Village Green Tearoom for lunch.      David and Dilys
The next walk is: Tuesday 11th June – Hoghton Bottoms Circular. Starting at The Royal Oak, Blackburn Old Road, Riley Green, PR5 0SL. Gather at 9.45am for a 10 o'clock start. Lunch at The Royal Oak afterwards. Pre-order for food is necessary. Leader: Dave 07711812536