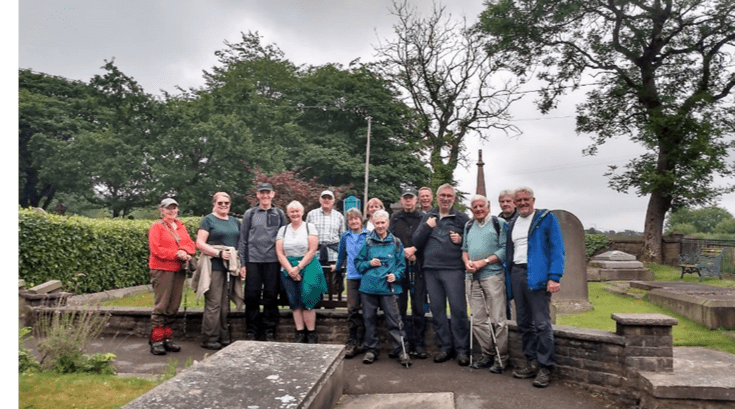 July – from Longworth Clough to Charters Moss Plantation
Mizzle is defined as a light rain or drizzle, from Low German miseln to drizzle. More mist than drizzle on this morning as 16 of us prepared to walk from the Black Dog at Belmont. We first went through Maria Square onto Egerton Road, dodging the traffic as best we could. Then off the road down a track into Longworth Clough. This Wildlife Trust area is, according to the website info, a Site of Special Scientific Interest and an outstanding mosaic of woodland, wetland and grassland habitats rich in wildlife. Apparently we should have been able to see yellow iris, common-spotted orchid, bog asphodel and sneezewort along with great horsetail, marsh marigold and opposite-leaved golden saxifrage with small skipper, large white, green-veined white, red admiral, peacock, comma, gatekeeper and meadow brown butterflies. If they were there we didn't see many. What was there was long, overgrown, grass and ferns that, with the rain the night before, made for very soggy legs as we passed through.
It was, nonetheless, a very pleasant walk alongside Eagley Brook arriving at Higher Critchley Fold where a tiny pony no bigger than a Great Dane keeps company with a donkey. Walking past Delph Reservoir we reached Dimple and the Walmsley Unitarian Chapel where we sat in the memorial garden for a coffee break. Heading off from Dimple we entered Charter's Moss Plantation with its myriad of pine tree varieties. Some were very splendid with their vibrant green new growth and tall flowers that would eventually become pine cones. Plenty of squirrels scampering about but only greys, no red.
Leaving the plantation we headed on over Stones Bank Road and towards Longworth Moor before turning towards Stake Moss and Higher and Lower Whittaker Farms and towards Belmont. With the church spire as our guide we plunged down the side of Eagley Brook once more to emerge by the old Belmont Bleach Works which dated from the early 1800s, when it was established as a calico printing works. The works expanded significantly in the second half of the nineteenth century, and was converted for use as a bleach and dye works. It's now general purpose commercial units for motor bike repairs and kitchen supplies.
Walking back up through Maria Square we went into the Black Dog pub for lunch and light refreshments while outside the mizzle finally gave way to heavy rain.      Vic
NEXT WALK – Tuesday 13th August.  A walk from Chapeltown around Wayoh Reservoir. Meet at The Chetham Arms, 83 High Street, Chapeltown, Bolton BL7 0EW at 9:45 for a 10 o'clock start. Lunch afterwards in the pub for those that want to stay. Leader: Ken 07743576377