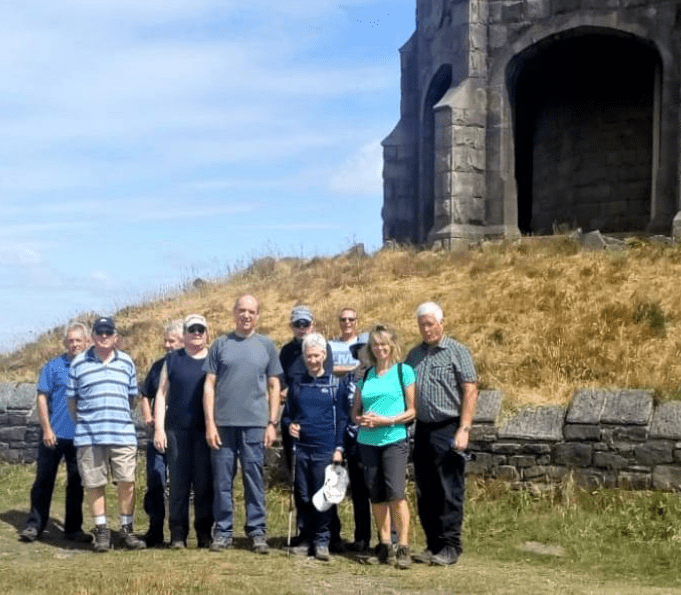 Abbey Village to Darwen Tower
Such lovely weather for the past 2 months but this morning it was a bit cloudy. As we drove via Wheelton to Abbey Village (avoiding the road closures because of the Winter Hill fires) there were three spots of rain on the car windscreen! The automatic wipers came on for one token sweep across. Then that was it. No rain for the gardens today.
Gathering at the Hare & Hounds at Abbey Village, fourteen of us prepared to walk in the sunny/cloudy conditions. It was warming up fast and it was clear there would be no more rain today. We set off along the side of the Rake Brook Reservoir at Roddlesworth before turning right onto the footpath leading to Lower Roddlesworth Reservoir. Under the shade of the trees it was cool and everyone was grateful to be out of the direct sun. Not much wildlife about other than our chattering group.
Climbing up a slope we walked on along the path to Higher Roddlesworth Reservoir before turning up a steep incline towards Tockholes. The incentive to climb the hill was the prize of a break at Vaughn's Country Cafe at the top. The Lime and Pistachio cake was glorious. Moving on passing Hollinshead Terrace we walked up to Stepback Brook before climbing up the short but steep incline towards Darwen Hill and the Jubilee Tower. Now we were on the open moor and the sun was only occasionally obscured by a light white cloud. Arriving at the tower we stopped for a drink while those with energy to spare climbed the tower to take in the spectacular views all around. We could see the southern hills of the Lakes as well as Pendle Hill, Blackpool Tower and the sparkling Irish Sea beyond.
Walking down, we passed Earnsdale Reservoir then climbed Donkey Brow cobbles before arriving at Fine Peters Farm. Crossing the road we again entered Roddlesworth and walked the top footpath which lead us back towards Lower Roddlesworth Reservoir and a return to Abbey Village. We had well-earned refreshments and lunch at the Hare & Hounds with German specialities such as Bratkartoffel mit Spiegeleiern and Schnitzel mit Bratkartoffel, as well British staples such as Cheese and Onion pie and Fish and Chips.                   Vic
Next walk: Tuesday 14th August. Blackrod Circular Walk. Starting at the Goose and Gander at Little Scotland. Meet at 9:45 for a 10 o'clock start. Lunch at the pub for those who want it after the walk (pre-order needed).
Leaders: David and Dilys 07535571750