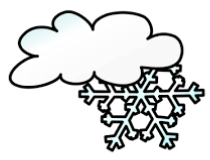 Rivington Terraced Gardens
The BBC forecast said snow. The Met Office said rain. At 10am outside the Crown at Horwich there were 18 of us gathered and it was dry. No sign of rain, just cloudy and windy. We set off walking down Bolton Road and up Dryfield Lane. Only then did it decide to fulfil the forecaster's promise. It started to rain. We turned left on the tracks at the back of the sports fields of Rivington & Blackrod High School and proceeded to "Liverpool Castle". The rain continued.
We followed the tracks along the shore of the Lower Rivington Reservoir until we reached Great House Barn where the public conveniences were indeed convenient for some. We sheltered for a short time under some bare winter trees as the rain came down heavier. Onward we walked through the Rivington Pinetum before turning left and then right up a wide track towards the Japanese Lake.
The track was getting muddy as we turned towards The Ravine. Plenty of water flowing down and also out of the sky. As we arrived at the Japanese Lake for a coffee break the weather turned worse. Now we had mist and heavy sleet. We sheltered under a Golden Yew tree that was part of the original planting by Lord Lever. The sleet turned to snow as we set off and it was now that Plan B kicked in – get back as soon as possible! So we walked up to George's Lane and set off towards Wilderswood.
As we walked along George's Lane the snow eased and the mist lifted to reveal a clear view across the Lancashire plain out to Southport and beyond. Such a quick change from near blizzard to clear skies. The ground had a thin covering of snow which made walking on the uneven surface a bit tricky. We turned right on to a track running parallel with the edge of Wilderswood, then on past the stables before descending to Green Lane.
Here at the lower levels there was no snow and the rain/sleet/snow had stopped completely. Green Lane brought us to Lee Lane and a short walk back to The Crown for a well-earned lunch. The sun was now shining and it looked like the afternoon would be bright. That was 4 seasons in six and half miles. What an amazing climate we have in the country. (No pictures this time as the weather was too bad!).                                                                    Vic
Next walk: Tuesday 13th March – Blackrod to Haigh Hall loop. Meet at the Goose and Gander, 38 Little Scotland, Blackrod, Bolton BL6 5LW at 9:45 to start walking at 10. Leaders are David and Dilys 07535571750