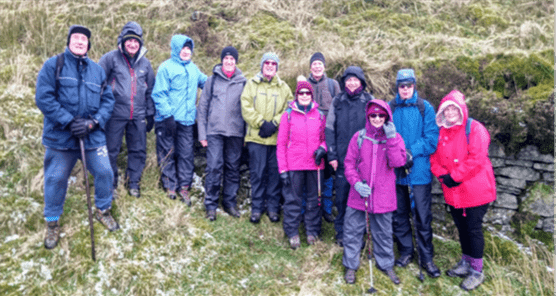 The Wind-Mill Walk
12 of us set off from the Bridge Hotel in Horwich (a new venue for the group) on a cold sleety and Very Windy morning. We went up Bridge Street then onto Foxholes Road and continued upwards to the Memorial garden. We then took a left round the front of some lovely cottages and into Wilderswood, winding  round up to Georges Lane. We then made the decision to continue up the track's to Twa Lad's a little boggy en route but we expected worse.
Twa Lad's is 2 large memorial cairns on the top of the moor, there are differing opinions as to why they were erected, the first is dating back to 1776 is that they are the graves of two children of a Saxon King, the other is that they mark the site were two boy's lost their way on the moor and died of exposure in a snowstorm.
The next Big decision was whether to have coffee now or drop down a little to a more sheltered spot, it was no contest and off we went with the wind still blowing around 40mph.
This was the first point that we changed the planned walk due to the conditions and set off down the road from Winter Hill towards Georges Lane, where we turned left towards Chorley Old Road. Then it was along Wallsuches past Curley's and the fishing lodges and onwards to the Old Arcon Mill, which has now been developed into fabulous residential homes.
We then continued down Gingham Brow and admired a New 5 garage property on the market for 2.4 million pounds. Then it was right down Chorley Old Road past Horwich Parish Church and back to the Bridge Hotel for a well-deserved lunch after we had all thawed out. Vic
Next walk: Tuesday 10th March – Rivington Anglezarke Adventure. Meet at 9:45 to start at the Rivington Bowling Club, Horrobin Ln, Rivington, Bolton BL6 7SE at 10. Parking on the road across the reservoir dam. Lunch afterwards at the Rivington Tea Rooms. Leaders: David and Dilys 07535571750