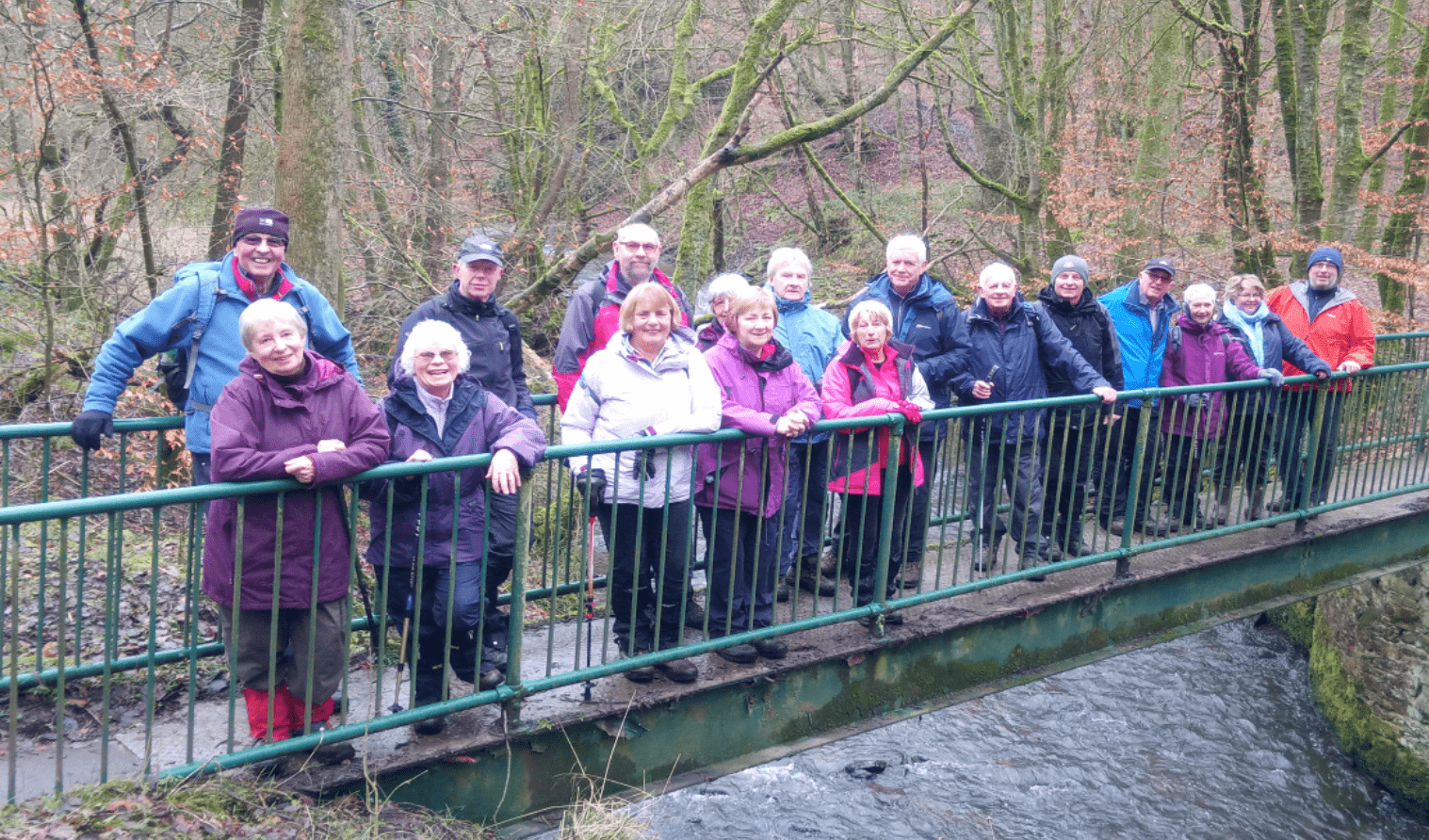 February walk to Worthington Lakes
As we approached Market Street, Adlington, we could smell and see the still smouldering skeleton after the fire which had raged through Fairport Containers. We detoured through the large industrial estate to avoid the A6, passing fishing lodges and fields until we had to cross the A6 to take the lane leading to Aberdeen Farm. At the farm we were told that there were 440 cows wintering in lots of sheds and the vet was there to check those which were in calf. They seemed extremely well looked after and there was an anaerobic digester utilising all the slurry they made.
Great views of the Lancashire plain before the rain came and meant 18 of us huddled under canal Bridge 65 for a short break. We then proceeded along the canal towpath and after the River Douglas (which originates in the moors above Rivington), met the Arley stream, we gingerly made our way down a slippery slope through Arley woods to the river. Unfortunately, in trying to avoid another slippery slope up, we had to negotiate a large puddle by swinging round a tree and then trying to find a safe way up!! It did leave Eddie doing his "Go Ape" ascent on his personal chosen route. As people were too busy trying to film it, he had to bravely get to safety on his own. What a hero!
We made it to the bridge and crossed to walk to the three Worthington Lakes. They are a series of reservoirs constructed in 1860's at an estimated cost of £25,000 – £30,000 to provide clean water for the rapidly growing town of Wigan. They are 9 metres deep and have a capacity of 546 million litres. We followed the paths round and noted no-one maggot drowning (fishing) and not many birds or ducks overwintering. Just the odd squirrel.
From there a nice, easy walk towards Adlington through the renovated farmstead of Common End and past an old school building dated 1815 for pious learning. We might not have met that criteria. Came to the towpath again and not far to The Bridge pub where we left the canal and sped towards Retreat.
No-one was lost or hurt on this expedition and all made it to Retreat for a drink and a great lunch.  Joan
Next Walk – Tuesday 12th March. To Be Decided.
Contact Vic on 07775 922433 for details nearer the time.