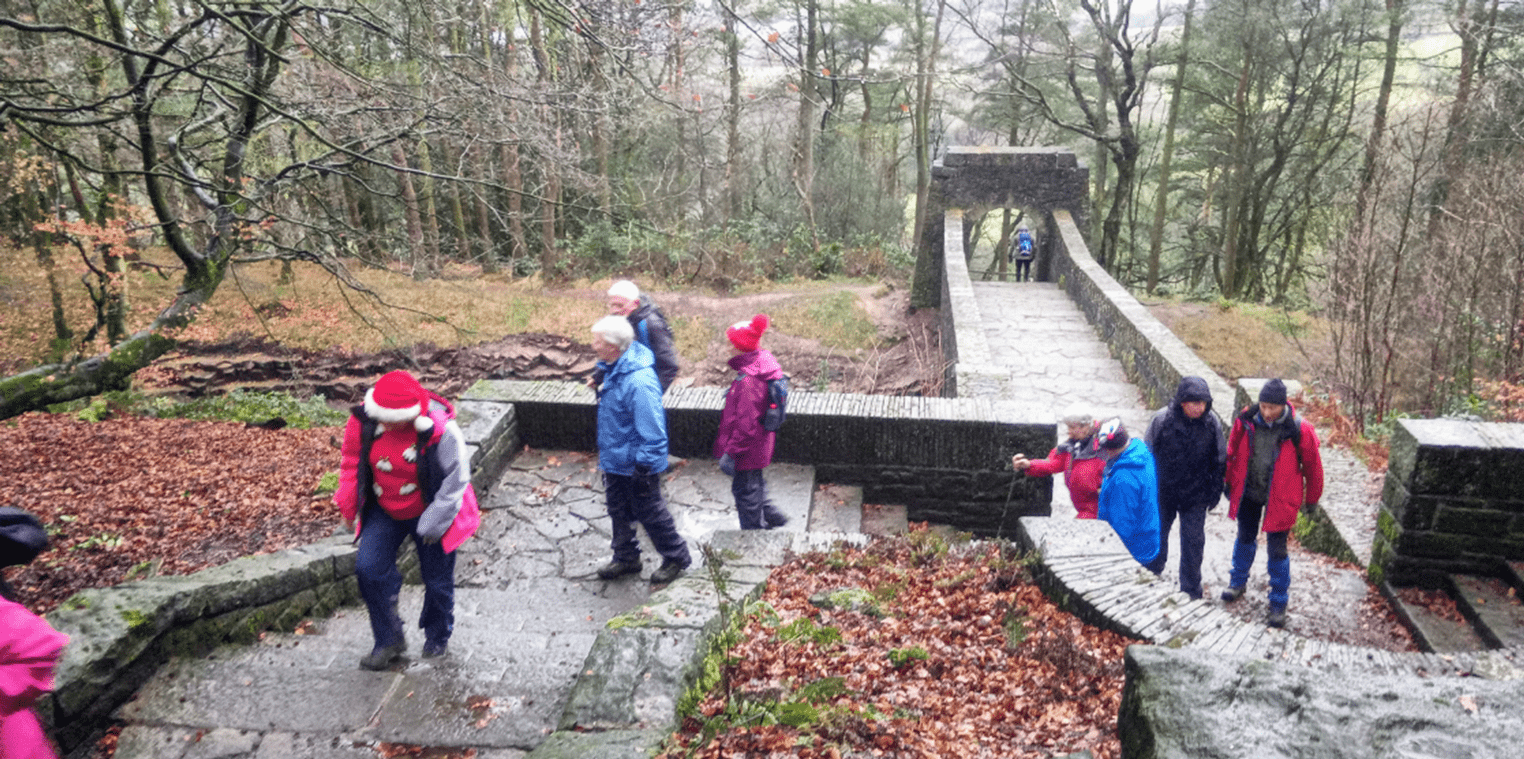 A Drizzly December day out to Lever Park
On a slightly drizzly but not so cold Tuesday morning in December, there were 14 of us gathered for our monthly Community walk. Being the season, some were attired in Christmas hats and jumpers, and some were bah humbug…
We set off from The Crown at Horwich along Bolton Road and turned right up Dryfield Lane. Turning left after the bridge over the River Douglas, we entered Lever Park and followed the path to our first encounter with mud. Only to be expected in winter, our group split in all directions trying to find a less muddy route but to no avail. At least the drizzle had stopped and things were looking brighter.
We followed the track along the Lower Rivington Reservoir shore and passed below Liverpool Castle. The water level was quite high and the waves were lapping against the banking and almost onto the path. Continuing past the Go Ape adventure park we eventually arrived at the car park by Rivington Primary School before turning back through the Arboretum towards the Great House Barn. Here we had a coffee break with a drop of winter warming Brandy or Rum provided by Margaret and Vic. Mince pies were also on offer, adding to the festive feel.
Fortified, we set off up the hill across the road from the barn and headed for the Pinetum where the evergreen trees made a welcome change from the drab leafless deciduous trees of the Arboretum. Along the path towards the car park at Belmont Road we turned right up Roynton Lane towards the seven arch bridge or African bridge which was specially commissioned by Lord Leverhulme after a bridge he had seen while travelling in Africa.
With all the work on the Rivington Terraced Gardens now complete, the paths are all accessible and we walked up the path and over the bridge. Lots of steps up looked a little daunting but we all made it to the path that leads to the Italian Lake and summer lawns. Walking past what will become lawns but is now levelled earth, we started to descend to the Japanese Lake. Fully refurbished this area now has the waterfall fully working and all the rock landscaping on show.
We continued from here down Roynton Road towards Rivington and Blackrod High School. We joined Lever Park Avenue and made our way back down towards Horwich and The Crown. It had stayed dry for the walk and as we arrived at the pub car park the rain started again. We were back just in time. Safely back in the pub we enjoyed a Christmas lunch and a welcome round of refreshments from the bar.  Vic
Next walk: Tuesday 14th January 2020 – Hulton Park and Cutacre. Meet at 9:45 to start walking at 10. Start point will be Pine Tree Farm pub, Unit A1, Cutacre Way, Bolton, BL5 1FN. Lunch at the pub afterwards. Leader: Brian 07711947827