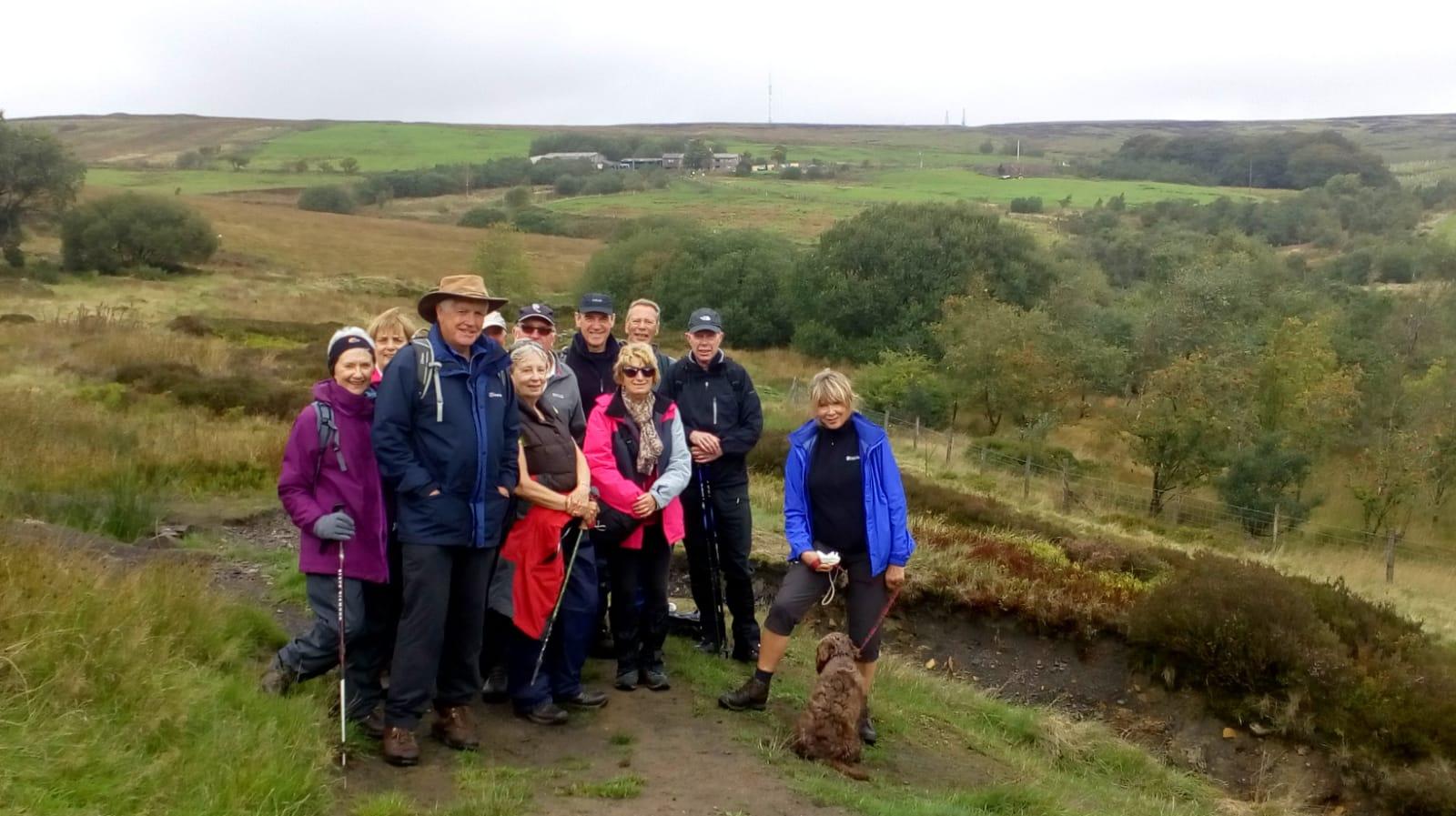 12 of us and 1 dog set off from Curley's on a grey looking Tuesday morning with forecast of rain to come. We went on a new path, which took a short cut up onto Matchmoor Lane. It was a steepish ascent but well worth it with the superb views across the moors. We then continued downhill, which was very welcome down to Scout Road. We then crossed the road and went down towards Barrow Bridge, at the top of 39 steps we did a U turn back up another path towards Scout Road.
We crossed to take the long walk up towards Twa Lad's passing a new car park being built for walkers and people wanting to explore the area, which was what Roly and I were told when doing our recce, but we are now told for some affordable housing. Half way up we paused for a coffee break and photo call. Onwards and upwards we continued till we should have crossed a stream that was now about 2 feet deep so we backtracked and took an alternative path. We then crossed the road leading to Winter Hill TV mast, then went up onto Twa Lad's where the views were still good. Vic took his customary picture at this time.
Twa Lad's is 2 large memorial cairns on the top of the moor, there are differing opinions as to why they were erected, the first is dating back to 1776 is that they are the graves of two children of a Saxon King, the other is that they mark the site where two boys lost their way on the moor and died of exposure in a snowstorm.
We then continued downhill again to Georges Lane and went through the woods, which was quite cool under the trees. A short walk on the road then right onto our last path which took us down past the Angler's lodges and back to Curley's. A Good Lunch was had by all (Rag pudding was worth walking for).  Eddie.
Next Month: Tuesday 9th October – Haigh Hall and Lady Mabel's Wood. Meet at the Balcarres Arms, 1 Copperas Lane, Haigh, Wigan WN2 1PA at 9:45 for 10 start. Lunch at Balcarres Arms after the walk. Leader: Vic 07775922433