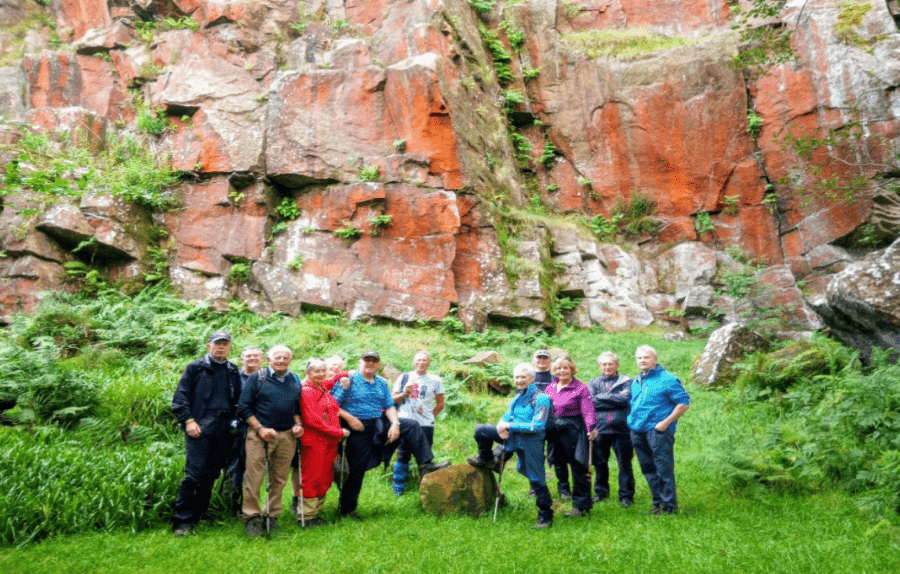 Unlucky for some perhaps but 13 of us turned out for this walk. We started in bright sunshine with a few white clouds. The forecast was a 40% chance of showers, we hoped to be in the lucky 60%.  We set off from the Chetham Arms at Chapeltown walking down Kay Street and Station Road before joining the track past The Sidings and up onto the hill at the back of Turton Tower.
Turning right we joined the Witton Weavers Way and walked past a refurbished farmhouse with a magnificent balcony and garden, adjacent to some rather dilapidated livestock buildings and two mysterious brick towers.  After a short distance on Green Arms Road we entered Darwen Community Memorial Forest above  Entwistle Reservoir. Once in the forest we lost all sense of location. We could have been anywhere from the Scottish Highlands to British Columbia in Canada. Lots of evergreen trees and low foliage undergrowth with streams and wildlife everywhere.
The track brought us round to the disused sandstone quarries at Yarnsdale Delph below Cadshaw. Here there is a huge sheer cliff of bright red sandstone overlooking the path. We stopped for a coffee break and a group photo in the shadow of the cliff.  Setting off again our luck finally ran out and a rain shower came on very quickly. Stopping under a tree to don our rain gear we set off again only for the rain to stop as fast as it started. Within 10 minutes it was bright sunshine again and raincoats were quickly removed and packed away.
Following the path around we came to the shore of Entwistle Reservoir where we saw two Heron drying their wings while standing on a sand bank on the water. They were overlooked by a metal sculpture of a Heron by UK-based Dutch artist Marjan Wouda.  Continuing round the reservoir we took a detour via The Strawberry Duck before joining the Wayoh Reservoir path which took us under the magnificent Entwistle railway viaduct. Arriving at Embankment Road we left the reservoir joining Chapeltown High Street and back to the Chetham Arms for lunch.  Vic
Next walk: Tuesday 10th September, to be confirmed. Leader: Vic 07775922433