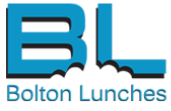 Last summer, working in partnership with local community centres, churches and businesses – together with an army of over 200 amazing volunteers – Urban Outreach produced and supplied 52,044 lunches over the school summer holiday.
On average this amounted to 8,674 lunches per week (or 1,795 per day). Approximately 6050 individual children were fed through the project. The lunches were distributed from 27 local centres.
In Blackrod – The PCC have again agreed to the use of St Katharine's as the Blackrod collection point for the BL Lunches scheme this summer. The scheme, organised by Bolton Urban Outreach, provides a packed lunch for children eligible for Free School Meals during the six weeks of the school holidays.
Last summer we were able to open the church every weekday thanks to all the people who helped on the rota, and this year we hope to do the same. If you can help – if only one morning – please get in touch.
There is not much involved, the lunches are prepared by Urban Outreach and delivered each morning and stored in our fridge. Children call in between 11am and 12 noon to collect. Simple! The scheme runs from Monday 22nd July to Friday 30th August.
Contact Mary (01204 697763) if you can help, or ring the church office and leave a message on the answering machine. Thank you.