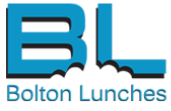 BL Lunches 2019
St Katharine's is a collection point for the BL Lunches scheme this summer. The scheme, organised by Bolton Urban Outreach, provides a packed lunch for children eligible for Free School Meals during the six weeks of the school holidays.
There is not much involved, the lunches are prepared by Urban Outreach and delivered each morning and stored in our fridge. Children call in between 11am and 12 noon to collect. Simple! The scheme runs from Monday 22nd July to Friday 30th August. If you know of someone who may be eligible please let them know.
Sandwich-makers wanted! If you can help with the preparation of the food, Urban Outreach are using Unit 4 at Trinity Retail Park (formerly Staples) – postcode BL2 1HY. Volunteers are invited to arrive there at 7.00am for an intensive but fun sandwich-making experience!
For more details ring 01204 385848.