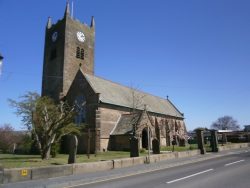 Thank you to everyone who attended the APCM which took place during the Parish Eucharist on Sunday 30th April 2017.  The Result of Elections is as follows:
Churchwardens:  Rob Sharp and Valerie Marron
Deanery Synod Representatives:
Valerie Marron, Margaret Ryding, Ruth Kellie, Barbara Worsley.
PCC Members:
Bob Chapman, Helen Gambles, Mike Hollick, Sheila Kinrade, Hazel Lord, Leah Meighan, Janet Milward, Sue Parry, Mary Pryle, Ruth Sharrock, Chris Skinner.  There is one vacancy.
Sidespersons:
Margaret Ryding, Ellis Collier, Doreen Cornes, Elaine McNabb, Agnes Taylor, Dilys Garritt, Rob Long, Jennifer Collier, Mike Hollick, Ruth Kellie, Bob Chapman, and Margaret Tickle.
The first meeting of the new PCC was held on 30th April and the following officers were appointed:
Lay Vice-Chair: Chris Skinner
PCC Treasurer: Jean Hibbert, Deputy Treasurer:  Mike Hollick
PCC Secretary: Mary Pryle
Deputy Churchwarden: Janet Milward
Electoral Roll Officer: Sheila Kinrade
Gift Aid/ Charity Commission Co-ordinator: Chris Skinner
Child Protection: Helen Gambles