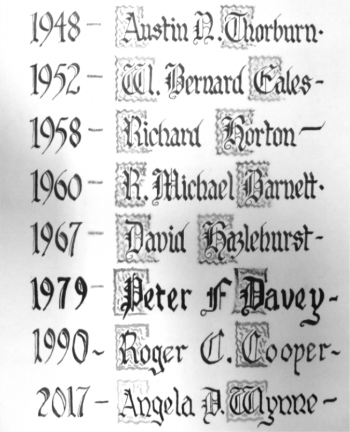 Many thanks to Phil Parker who very kindly responded to the plea for a calligrapher to add Angela's name to our list of Vicars at St Katharine's since 1300.  Thank you once again Phil for coming to our rescue!  If you have a bit of time in church to look at the list, it's on the wall in the Tower Room.  A fascinating record of the clergy from 1349 to present day!
Buttresses
Update on work in progress – you may have noticed the Bullen's vans outside church and wondering what now?  Bullen Conservation Ltd are Conservation and Masonry Specialists and they are completing work to "pin" the buttresses at bottom of the church tower.  This has involved drilling holes through, and then inserting steel tubes which were fixed with strong mortar.
And you may have noticed that the Church Noticeboard has been removed.  This is more work in progress with Ormsby's of Scarisbrick who are repainting the noticeboard and signwriting the changes to details, including our Vicar.  It will back soon.