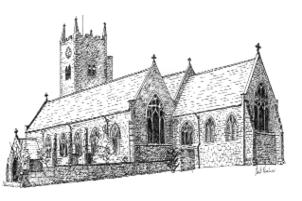 St Katharine's PCC is delighted to announce the appointment of the Revd Angela Wynne as Priest-in-Charge of St Katharine, Blackrod and Assistant Curate in the Daisy Hill, Westhoughton & Wingates Team Ministry.  Angela is currently SSM Associate Priest at Christ Church, Charnock Richard and St Mary the Virgin, Eccleston, in the Diocese of Blackburn.
Her role in the Daisy Hill, Westhoughton and Wingates Team will include special responsibility for St Thomas, Chequerbent.  Consultation about the formation of a new Team Ministry to cover the whole area is at an advanced stage and if that comes into being Angela will become a Team Vicar with special responsibility for St Katharine's and St Thomas.  The date of her licensing has been arranged for 13th October 2016 and her first service at St Katharine's, Blackrod will be Sunday, 16th October 2016.
The PCC has steadfastly worked through a variety of issues since we were told 18 months ago that there was no hope of having a resident vicar in Blackrod, and we feel that this result is so much better than we could have hoped for.  Because Angela will also be covering services at St Thomas, Chequerbent and have responsibilities within the Blackrod, Daisy Hill, Westhoughton and Wingates team, St Katharine's PCC has approved a change in service time for the Sunday Parish Eucharist.
From Sunday, 4th September 2016, Holy Communion will remain at 8am and the Parish Eucharist will be moved to 11am. 
We thank God for an answer to our prayers since Blackrod keeps a resident priest and pastoral care within the village and St Katharine's retains two Sunday morning services at fixed times.  Further information is available from any member of the PCC.