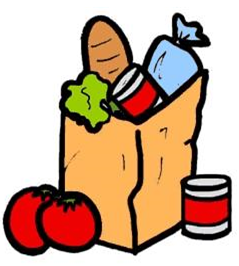 This year's Lent meditations are to be on the theme of "Food for Thought".  They will be running each Wednesday in Lent starting on the 8th March and finishing on the 5th April. Fr Kevin and Revd Gill will be joining me in leading these meditations.  Refreshments will be served afterwards as usual.
We are using material supplied by the Church Urban Fund as a way of exploring our relationship with food and how it relates to our faith.  The following is taken from the introduction to the meditations:
"Today food is politics, food is class, food is religion, food is society – but that was equally true in Jesus' day. In "Bake off" land, Mary Berry is a voice of authority from a confident middle England and Paul Hollywood embodies a "working man done good" persona we like to affirm.  At the same time, in Nadiya Hussain, one Asian mum has become an icon of hope to the wider British society, holding out the possibility that we can negotiate our current cultural minefields, and find a friendly face within the seemingly alien world of Islam.
But the reality of food for so many people in our country today is far away from the shining kitchens we see on TV.  Many people are struggling just to keep warm and keep fed, especially if they have children to support.  Problems with food are often signs of wider problems like debt, ill health or general poverty – and so Lent is a time to explore salvation in a holistic sense – how God calls us into fullness of life – and that's a story that always culminates at Easter!
"We are what we eat" – nothing goes deeper than things that we take into ourselves.  The food we eat becomes the molecules that make up our bodies, our hearts and minds.  The food choices we make display our passions and commitments to the world.  A considered choice to fast or to become vegan, or a vegetarian – or any number of other minority food commitments present a real challenge to the assumptions and practices of the majority.  Some choose to pay more for organic or high welfare food – but how moral is that when so many cannot even afford basic foodstuffs?
Debate about what could or could not be eaten by God's people is a major theme in both Jesus' and St Paul's ministry, in their difficult dialogue with their Jewish inheritance.  The prayer Jesus taught his disciples contains the plea that we might find enough to eat each day we live.  Today, fasting at Ramadan is one of the main ways British Muslims make their faith visible each year.  Food – whether we partake or whether we refrain – is always saying something about what we believe."
Each week our meditation will reflect on how we feed our faith and how that helps us to relate the outside world.  We do hope you can come along and spend some quiet time with God but also find some "Food for Thought".                                                                               Revd Angela.